Once the site is selected, a Site Initiation Visit (SIV) is planned to provide study-specific information to investigators and staff before study start-up. During this visit, sponsors/CROs also reassess the resources and capabilities of the site to conduct the research study.
The monitor will also discuss with the staff obligations per GCP, SOP, and protocols and provide guidance to be successful in the study. This visit traditionally takes three to four or more hours to complete without Remote Monitoring capabilities.
Preparing for a Traditional Site Initiation Visit
Before patient enrollment.
After all essential documents are in place.
After supplies received.
After IRB approval.
Set a mutually agreed-upon meeting time.
Send prepared agenda with expected attendees.
Send all study-related materials in advance for review.
Send supplies.
Review protocol and any other documents received by sponsor/CRO (i.e., CRFs, Investigator Brochure).
Become familiar with the study's procedures.
Confirm supplies received (i.e., drug, binders, test tubes, regulatory binder, etc.).
Write down questions for sponsor/CRO when reviewing documents.
Secure room.
Ensure staff availability for the visit.
What Traditionally Happens During a Site Initiation Visit?
When the Monitor first arrives introductions are made between key staff at the Research Site and the on-site sponsor or CRO. It is integral to develop CRO, Sponsor and Site contact list so the appropriate parties can be connected with during the Site Initiation Visit. Introductions are usually followed by a tour of both the site and pharmacy.
A number of various activities take place during the protocol review portion of visit. Monitors focus on eligibility criteria, drug, and study procedures to verify that the correct requirements are in place in order to successfully manage the study. Enrollment and consent procedures are analyzed with attention to specific regulatory compliance. Drug handling requirements are evaluated to verify standards are being upheld. Requirements for records management and retention are inspected to ensure documentation is responsibly handled.
Monitors review Adverse Event and Expedited Adverse Event reporting requirements. Regulatory obligations are assessed to be sure that all rules and regulations are being upheld. Both sponsor and PI responsibilities are outlined and reviewed so all parties are aware of what duties need to be completed by each group.
A close review of Study Documentation takes place so that everything is accounted for before beginning a study. Typical study documentation that is observed during this visit includes Drug Accountability Forms, CRFs, logs, and patient recruitment resources.
A few additional action related items take place during the review of Regulatory Binders. The Research Site must obtain signatures for Signature Log, gather signatures for Monitoring Log and start Delegation of Accountability Log.
The Research Site and sponsor or CRO get together to review the Monitoring Plan so all administrative personnel are knowledgable of what expectations to have throughout the life of the Study.
At the end and throughout the visit, the identification of potential problems and concerns are noted and addressed.
What Traditionally Happens After a Site Initiation Visit?
After the completion of a Site Initiation Visit, Research Sites are expected to follow-up with the sponsor or CRO on any outstanding issues. These issues could include missing CV's, unaccounted for CLIA, need of supplies, or addressing staff and resource concerns.
The Monitor sends a final Site Initiation Visit report that is subsequently filed away in a Regulatory Binder at the Research Site.
The Future of Site Initiation Visits with Florence eHub
Research Sites that deploy eISF platforms see an average of 40% shorter study startup timelines. The combination of eSignatures, automated document routing and workflows, task assignment, and remote monitoring/access capabilities drive this efficiency.
When connecting directly with a Research Site's eISF through Florence eHub, sponsors and CROs can deploy the full regulatory binder, with associated due dates and assigned tasks, in a single click to all research sites.
Integrate the eTMF directly with site eISFs through Florence eHub to enable single-click deployment of study binders to all research Sites before the SIV.
Assign tasks to sites associated with specific eISF documents to ensure completion before the SIV.
Allow sites to create flexible folder structures that match their existing workflows and then map files back to the eTMF for maximum site efficiency.
Track progress and review all documents in real-time across all participating sites.
Gain access to 5,000+ Research Sites already managing eRegulatory and eSource on Florence eBinders and deploy full eISF Site Spaces to Research Sites who are not already managing their studies on Florence eBinders.
Sync quality controlled completed site documents back into the appropriate location in the eTMF.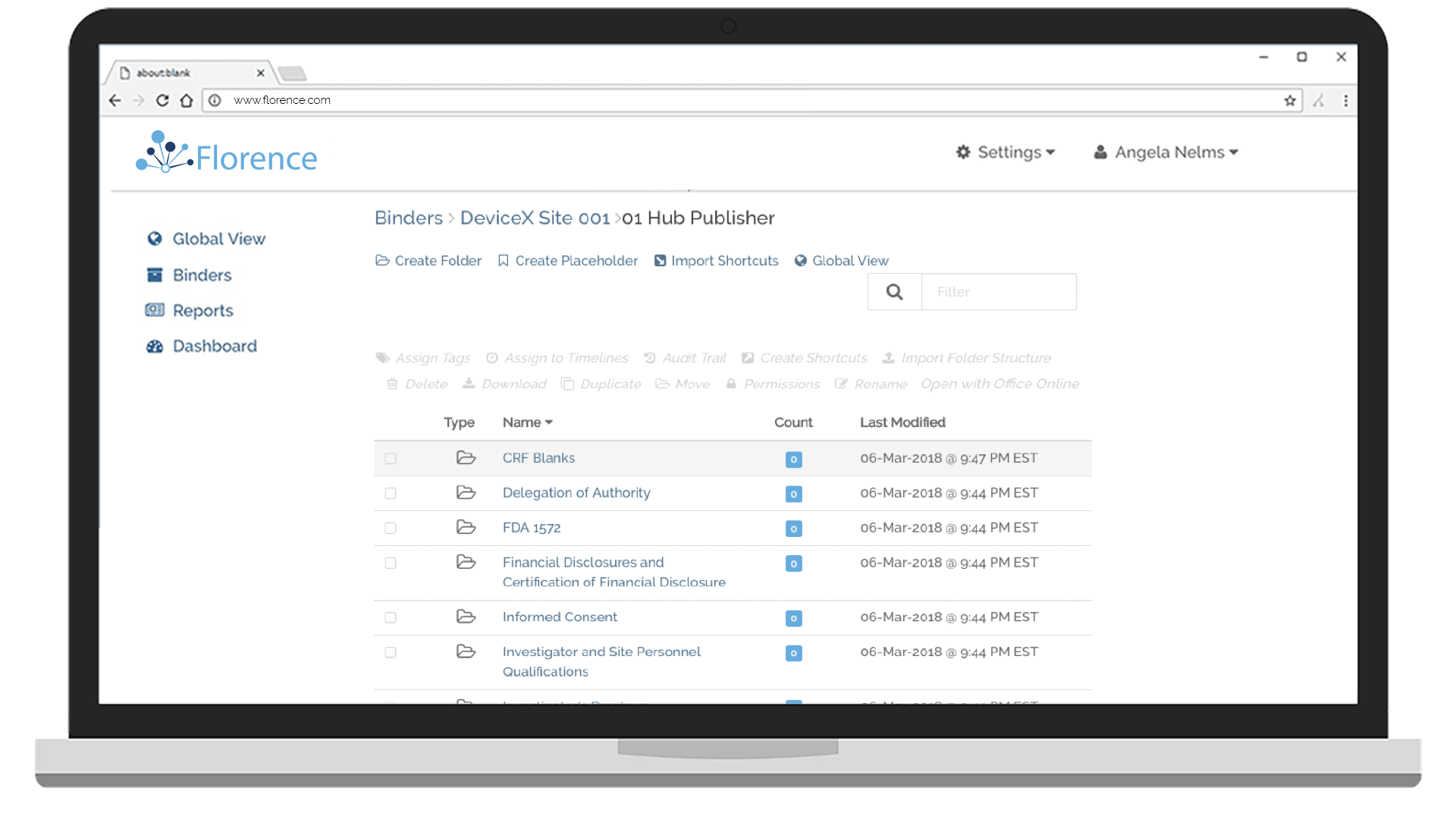 Deliver Startup Documents to Sites
Eliminate the need for mailing, emailing, and faxing study start-up documents and protocols to research sites.
Build your study file structure in Florence eTMF (or your own eTMF).

Publish eTMF file structures directly into Florence eHub, a secure and compliant shared workspace for sites.

Send to a single site, or all of your sites, in one click.

Sites only see the files they are granted access to within their eISF.
Discover how the easiest-to-use and most flexible solution for eRegulatory, eSource, and Contract Management is advancing research for research sites.
Discover how sponsors are gaining real-time access to sites, accelerating startup, achieving real-time remote monitoring, and enabling quality control.